All-Around • Inducted 1979
In 1950, Bill Linderman of Red Lodge, Mont., became the first man in professional rodeo history to win three world titles in a single season, claiming the championships in the all-around, steer wrestling and saddle bronc riding.
Born April 13, 1920, Linderman won six world titles between both ends of the arena and was the first professional cowboy to win more than $500,000.
Always a leader, Linderman was elected to the RCA Board of Directors in 1947 when he was 27 years old. In 1951 he was elected president of the association and was re-elected annually until he refused to accept nomination in 1958.
Typical of his dedication, he qualified for the first National Finals Rodeo in 1959, but he withdrew from competition to serve as arena director to help ensure the success of the new venture. He served as secretary and treasurer of the RCA from 1962 until his death in a plane crash on Nov. 11, 1965, in Salt Lake City.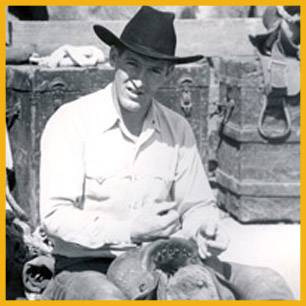 World Championships: 6
All-Around: 1950, 1953
Bareback Riding: 1943
Steer Wrestling: 1950
Saddle Bronc Riding: 1945, 1950
Born: April 13, 1920 in Bridger, Montana
Died: November 11, 1965 in Salt Lake City, Utah
RCA President: 1951-57
California Rodeo Salinas / Salinas, CA
All-Around: 1950
Cheyenne Frontier Days / Cheyenne, WY
Bareback Riding: 1945
Cody Stampede / Cody, WY
All-Around: 1954, 1955
Steer Wrestling: 1954, 1955 (tie)
Deadwood Days of '76 Rodeo / Deadwood, SD
Saddle Bronc Riding: 1946
Ellensburg Rodeo / Ellensburg, WA
All-Around: 1955
Bareback Riding: 1955
Saddle Bronc Riding: 1955
Fort Worth Stock Show & Rodeo / Fort Worth, TX
Saddle Bronc Riding: 1949
Bareback Riding: 1947
Steer Wrestling: 1950
Grand National Stock Show & Rodeo / San Francisco, CA
Saddle Bronc Riding: 1953
Iowa's Championship Rodeo / Sidney, IA
All-Around: 1952
Saddle Bronc Riding: 1952
Steer Wrestling: 1952
La Fiesta de los Vaqueros Rodeo / Tucson, AZ
Saddle Bronc Riding: 1945
National Western Stock Show & Rodeo / Denver, CO
Saddle Bronc Riding: 1949
Bareback Riding: 1954
Steer Wrestling: 1957, 1964 (tie)
Ogden Pioneer Days Rodeo / Ogden, UT
Bareback Riding: 1945
Saddle Bronc Riding: 1950, 1951, 1952
Steer Wrestling: 1961
Pendleton Round-Up / Pendleton, OR
Steer Wrestling: 1965
Red Bluff Round-Up / Red Bluff, CA
Steer Wrestling: 1950
Redding Rodeo / Redding, CA
Bareback Riding: 1958
Reno Rodeo / Reno, NV
Steer Wrestling: 1956
Rowell Ranch Rodeo / Hayward, CA
Saddle Bronc Riding: 1958
San Antonio Stock Show & Rodeo / San Antonio, TX
Saddle Bronc Riding: 1950
Snake River Stampede / Nampa, ID
All-Around: 1951, 1956