Stock Contractors • Inducted 2019
*Inducted as a pair with Jiggs Beutler.
Elra and John Arthur "Jiggs" Beutler formed Beutler and Son Rodeo Company in 1956. Elra had previously worked with his brothers, Jake and Lynn, to form the Beutler Brothers Rodeo Company. The new company started with seven rodeos their first year. That steadily increased until they were putting on about 30 each year between six different states.
Beutler and Son became synonymous with top livestock and a quality rodeo production. Focusing on quality over quantity, they chose rodeos based on the traveling needs of their stock. They sent livestock to the National Finals Rodeo every year between 1959-1962 and from 1964-1988. At the first National Finals in 1959, Speck was chosen as Bull of the Year, and he received the award again in 1960. In 1973, Beutler and Son had the Saddle Bronc of the Year with Sam Bass.
The core of the Beutler ranch was 5,000 acres in western Oklahoma's "short grass country." This fertile area gave the stock plenty of room to graze and also allowed for farming.
When Jiggs passed away from a farming accident, his son Bennie stepped in to run the business with Elra. After Elra passed away in 1987, Bennie joined forces with E.K. Gaylord II to create Beutler and Gaylord Rodeo. In 2000, Gaylord gave his share of the company to Rhett Beutler, Bennie's son, thus reforming Beutler and Son Rodeo which still exists today.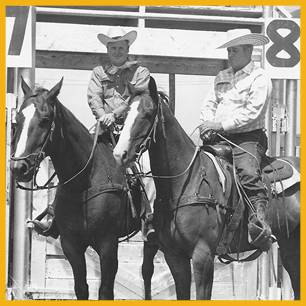 Born: October 19, 1896 in Okarche, Oklahoma
Died: June 3, 1987 in Elk City, Oklahoma