Cody, Wyoming • Inducted 2019
Cody, Wyoming, is often called the "Rodeo Capitol of the World." The Cody Stampede Rodeo has attracted countless tourists to the small-town east of Yellowstone National Park entrance since 1919.
With a population of only 10,000, Cody draws 800-900 contestants per year with a payout of over $400,000. Held the 1-4 of July each year to sell-out crowds, it is traditionally one of the highest paying rodeos over the Fourth of July holiday known as Cowboy Christmas. Because contestants only compete once for a chance at the prize money, contestants can compete in other rodeos and still win big at Cody.
This large event is put on by a volunteer board of business people who dedicate themselves to the sport year-round. In a town named for William "Buffalo Bill" Cody, a sense of authentic Western lifestyle is essential to the community. The rodeo plays a central part in keeping the community's sense of Western heritage and culture alive and well.
Cody helped many young cowboy stars get their start. Cowboys include Hall of Fame inductees Freckles Brown, Chris LeDoux, Jim Houston, Tom Ferguson, Deb Greenough, and Dan Mortensen. Cody has also produced its fair share of world champions including Bill Smith, Mel Stonehouse, Nick Knight, and Floyd Stillings.
Cody was honored with the PRCA Large Outdoor Rodeo of the Year in 1998 and 1999. In 2014, the Women's Professional Rodeo Association honored Cody with the title of Large Outdoor Rodeo of the Year.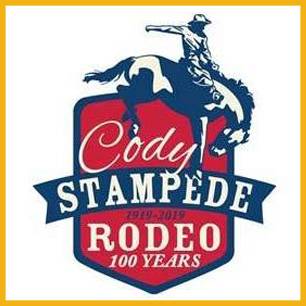 PRCA Large Outdoor Rodeo of the Year
1998, 1999