Notable • Inducted 2019
A three-year-old Jerome Robinson announced that he intended to become a bull rider while attending the National Western Stock Show with his grandmother. At age fifteen, after years of family discouragement, the trophy for winning a horse race with his father was permission to pursue a rodeo career.
Robinson attended Colorado State University studying education but maintained that he really majored in rodeo. He qualified for three National Intercollegiate Rodeo Finals and was rodeoing professionally when he graduated in 1969. He qualified for his first of 11 National Finals Rodeo appearances in 1970 and his last in 1981. During his time in the professional ranks, Robinson served as the Bull Riding Director on the PRCA Board for four years, Vice President for one, a term on the National Finals Rodeo Commission, and was on the PRCA research and development committee for the building of the Colorado Springs headquarters and Hall of Fame.
Robinson made a lasting contribution to rodeo when he helped institute the centralized computer entry system, known today as PROCOM. This system utilized a computer to implement rules and guidelines of the PRCA Rulebook and a bank of toll-free phone lines to communicate with rodeo contestants, stock contractor, secretaries, and committees. PRCOM consolidated over five hundred individual rodeo entry offices across the nation into one, facilitating a vastly more efficient method of contesting in and producing PRCA rodeos.
An injury in 1982 took Robinson out of competition for four months but afforded him the opportunity to launch an integrated rodeo production business specializing in indoor rodeos. He handled everything from booking venues, hauling in dirt for the arena, hiring contractors, and producing the performance. In 1985, the PRCA asked Robinson to execute the production of the ESPN televised rodeo series "Winston Tour." Robinson's company has produced events in Japan, France, Finland, Oman, Italy, Canada, Mexico, Brazil, and Venezuela.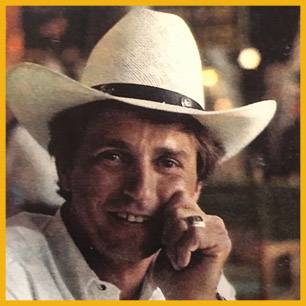 RAM Circuit Year-End Champion
Prairie Circuit:
Bull Riding: 1975
Southern Circuit:
Bull Riding: 1975
Cody Stampede / Cody, WY
Bull Riding: 1982
Greeley Stampede / Greeley, CO
Bull Riding: 1976
Redding Rodeo / Redding, CA
Bull Riding: 1971
Rowell Ranch Rodeo / Hayward, CA
Bull Riding: 1973 (tie), 1976 (tie)
San Antonio Stock Show & Rodeo / San Antonio, TX
Bull Riding: 1975