Livestock • Inducted 2017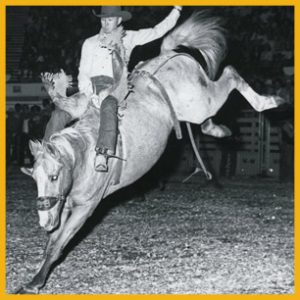 Bareback horse Smith & Velvet was the definition of a late bloomer.
The horse, which was honored as the PRCA's top bareback horse four times (1977, as Mr. Smith, and then 1979-80 and 1982, as Smith & Velvet), didn't become an award-winning bucker until he was into his 20s.
When owner Bobby Christensen first started bucking the horse, Smith & Velvet would be good for five or six seconds, and then he would spin and stop.
A lot of people told Christensen to get rid of the horse and that it would never reach its full potential. Instead, Christensen stayed the course and turned Smith & Velvet out for a few years.
The horse's comeback tour was complete when Christensen entered him in Oakdale, Calif., in the late 1970s, and he bucked off World Champion Jack Ward. From then on, Christensen knew he had a good horse, and the animal's career took off.
Smith & Velvet also faced five-time World Champion Joe Alexander – one of the greatest bareback riders of all-time – six times in his career, with man and beast each gaining the upper hand three times.
Smith & Velvet died in 1983 in a tragic truck and trailer accident that killed many of Christensen's prized NFR horses.
"He was the bread and butter of our company for many years," Christensen said. "I always hoped the call for him going into the Hall of Fame was coming, I just didn't know when it would."
Stock of the Year
1977, 1979, 1980, 1982