Livestock • Inducted 2016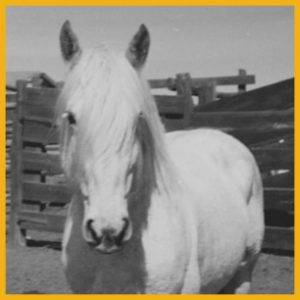 Gray Wolf never went to the NFR, but he was among the best sires owned by the legendary Tooke family.
Gray Wolf produced the most award-winning horses that can still be seen today in strings from Vold to Beutler to Sankey and Rosser.
Horses that go back to Wolf are: Lunatic Fringe (Burch), Miss Congeniality (Powder River Rodeo), Grated Coconut (Calgary Stampede), Chuckulator (Sutton), along with many others that can be seen in arenas today.
Zone Along (Calgary/daughter), Zane Gray (Calgary/daughter), Kloud Gray (Calgary/granddaughter), Challenger (Calgary/grandson), Eruption (Rosser/Son), Mr. T (Suttons/grandson) are all direct descendants of Gray Wolf.
In 1987, two of Gray Wolf's offspring – Guilty Cat and Challenger – and his grandson, Kloud Gray, all took home awards for PRCA accomplishments.
Guilty Cat, owned by Calgary Stampede, was voted the PRCA Reserve Bareback Horse of the Year, while Challenger and Kloud Gray tied for the PRCA Saddle Bronc Horse of the Year.
Guilty Cat went to 12 NFRs and 17 Canadian Finals. He was a four-time Canadian Bucking Horse of the Year, twice in the bronc riding (1982, '85) and twice in the bareback (1981, '89), and won silver at the Olympic Games rodeo in 1988.
Feek Tooke, the patriarch of the family and a 2008 inductee of the ProRodeo Hall of Fame, nearly made the disastrous decision of selling Gray Wolf early in the horse's life, but came to his senses. Feek's son, Ernest, said, "I don't know what dad was thinking, that $30 sale would have changed the whole face of rodeo that would have still been felt today."
Gray Wolf died in 1978 at the age of 22.