Livestock • Class of 2020
G-65 Grated Coconut is a testament to the Born to Buck Breeding program of the Calgary Stampede Ranch. His mother, Coconut Roll, was a ten-time National Finals Rodeo qualifier. His sire, Wyatt Earp of Northcott Rodeo, was voted Saddle Bronc Horse of the National Finals Rodeo in 1997 and 1998.
Grated Coconut became a dominant force during his career. Of his 114 outings, 37 cowboys hit the dirt, 25 scored in first place, and 29 finished in the money. If a cowboy was lucky enough to stay aboard for eight seconds, he usually won money. His prowess in the arena earned him six Bareback Horse of the Year titles (2003-04 and 2006-09), tying with the great Descent. He also earned six Canadian Champion Bareback Horse titles (2003-05 and 2007-09).
Retired at the top of his game in 2010, Grated Coconut is continuing the Calgary Stampede Ranch Born to Buck program. Of his children, at least 45 are competing at the top level of rodeo athletes with several qualifying for both the National Finals Rodeo and the Canadian Finals Rodeo.
For a horse feared by many cowboys, Grated Coconut was very social and gentle outside the arena. He enjoyed scratches from the cowboys before competition and has even let toddlers sit on his back. Grated Coconut became a top rodeo animal ambassador. Visitors to the Calgary Stampede Ranch were able to socialize with him before watching him explode into a rodeo arena. The pairing of his power and intelligence truly made him one of the great rodeo athletes.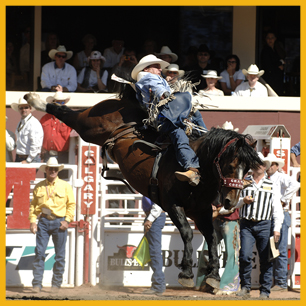 Stock of the Year
2003, 2004, 2006, 2007, 2008, 2009
Canadian Stock of the Year
2003, 2004, 2005, 2007, 2008, 2009