Livestock • Inducted 2018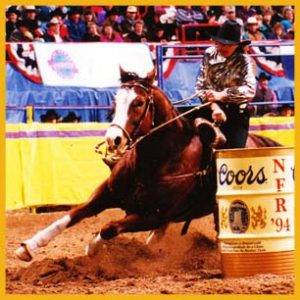 With his big blazed face French Flash Hawk, known as Bozo, was one of the most recognized athletes in ProRodeo in his time, a champion in the arena who touched off a revolution in barrel racing bloodlines.
Purchased as a 2-year-old by Kristie Peterson for $400, Bozo stormed the rodeo world in 1993, nearly upsetting legends Charmayne James and Scamper in their 10th championship year.
After finishing a close second in 1993, Peterson and Bozo won the first of four WPRA world titles in 1994. The duo won three more world titles (1996-98), three reserve world titles (1993, 1995, 1999), five consecutive National Finals Rodeo average titles (1994-98) and four Dodge National Circuit Finals Rodeo titles (1992, 1994-95, 1998).
In a feat unsurpassed at the time of induction, Peterson and Bozo went two years at the NFR without missing a check (1996-97). Bozo placed in 22 consecutive rounds from 1995-97, missed a check in the first round of 1998, then rattled off another 17 straight.
Bozo was voted AQHA Horse of the Year five times (1995-99) and WPRA's Horse With the Most Heart four times (1995-98).
By the stallion Sun Frost out of Casey's Charm, Bozo's accuracy on the pattern had breeders seeking out his bloodlines. Two sons of Sun Frost, Frenchman's Guy and PC Frenchman's Hayday, have become household names. Peterson's daughter, Jordon Peterson Briggs, also rode Bozo during her early career and went on to qualify for the Wrangler NFR in 2009 on a blood relative of Bozo's, Frenchman's Jester.
Peterson retired the gelding not long after winning her third Rodeo Houston title in 2003.
On May 4, 2016, at the age of 29, Bozo died peacefully at their home in Texas. Bozo will be remembered for the heart and determination that enabled his remarkable achievements.
AQHA Horse of the Year
1995, 1996, 1997, 1998, 1999