Contract Personnel • Class of 2022
Raised on his family's Appaloosa horse ranch near Tickfaw, LA, Rick Young did not set out to become a rodeo clown and bull fighter. He really wanted to be a colligate football player after earning All-State accolades in both football and basketball. However, the 5'9" Young was deemed too small for the Louisiana State University football team, so he joined the rodeo team instead. For LSU and, later Southeastern Louisiana University, Young competed in bareback riding, bull riding, roping, and steer wrestling. He used his earnings to pay his way through college and earn an Animal Husbandry degree.
Becoming a rodeo clown happened by accident when he was asked to fill in for a clown that didn't show. Young agreed to continue working with the Kinney Brothers in their rodeos across Texas, Arkansas, and Louisiana. When they made the move to the professional ranks by joining the Rodeo Cowboys' Association, Young went with them. Young transferred to Rodeos Incorporated before becoming a free agent and booking his own shows. This allowed him to be more selective on the rodeos he went to and gave him time to tend to his Appaloosa herd. Young has worked rodeos from Florida to Connecticut to Calgary and Hawaii.
Young prides himself on having covered all aspects of being a rodeo clown. He has fought some of the toughest bulls, been gored while in the barrel, and constructed some of the best acts in the business. He has worked with broken ribs, a broken leg, a broken jaw, stitches, and plenty of bruises. Young was sponsored by Burger King for a time, they gave him a traveling van in return for making people laugh at appearances at their restaurants.
The "Ragin Cajun," or as he became later "The Agin' Cajun," has had one of the longest rodeo careers. He attended over 50 years of the Sikeston Jaycee Boothill Rodeo. Young worked the National Finals Rodeo (1974), the All-Indian National Finals Rodeo (1978, 1980, and 1982), Dodge National Circuit Finals Rodeo (1991 and 1992), and the Wrangler Bull Fights (1980-1983). His skills won him the 1980 Clown of the Year Award and the Coors Man in the Can Award in 1991, 1994, 1996, and 1997. Young can also add some movie credits to his resume for The Great American Cowboy, Alverez Kelly, and Everybody's All American. He was inducted into the National Cowboy Hall of Fame in Oklahoma City in 2004.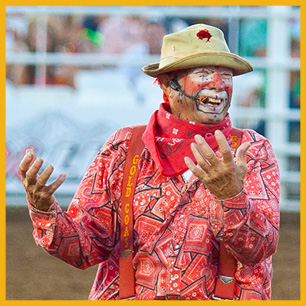 Coors Man in the Can
1991, 1994, 1996, 1997
Born: March 3, 1934 in Houston, Texas