Contract Personnel • Inducted 2017
Prior to his induction into the ProRodeo Hall of Fame in 2017, Randy Corley had been selected PRCA Announcer of the Year 12 times (1984, 1990-96, 1998, 2003, 2011, and 2015). He also had been an announcer at the National Finals Rodeo 16 times.
Originally a bareback riding and bull riding contestant, Corley started making radio commercials, then went to broadcasting school with the idea of becoming a rodeo announcer.
The late Hadley Barrett, a ProRodeo Hall of Fame announcer – and Corley's father-in-law – heard Corley in North Platte, Neb., and invited him to apply for his PRCA card, which he did in 1980.
Corley has worked rodeos of all sizes – from Hill City, Kan., to San Antonio, Texas. He announced in Caldwell, Idaho, every year since 1982 and at Puyallup and Kitsap County, Wash., since 1983, and still did as of his induction in 2017. In 2005, he and daughter Amanda became the first father-daughter tandem to work the Wrangler NFR – as announcer and timer.
"This is quite an honor, and I do not take this lightly – I can tell you that," Corley said of entering the ProRodeo Hall of Fame. "Nothing can be any better than reaching this pinnacle, other than taking care of every rodeo I work. They are all the reasons I'm in the Hall of Fame."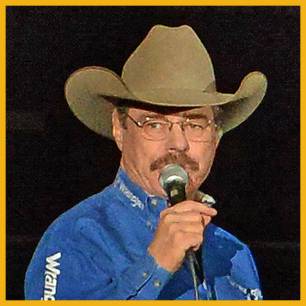 PRCA Announcer of the Year
1984, 1990, 1991, 1992, 1993, 1994, 1995, 1996, 1998, 2003, 2011, 2015
Born: November 22, 1951 in Miles City, Montana