Contract Personnel • Inducted 2016
Phil Gardenhire, a five-time announcer at the National Finals Rodeo, joined the PRCA in 1984 and was widely known for helping reintroduce the "mounted announcer" to ProRodeo while working astride his handsome paint horse.
He announced the NFR in 1985, 1987-89 and 1993, and also worked the Clem McSpadden National Finals Steer Roping, Dodge National Circuit Finals Rodeo and the National High School Finals Rodeo.
Gardenhire studied at Northeastern Oklahoma State University (Tahlequah) and worked as a radio disc jockey before beginning his life on the rodeo road. After high school, he served in the U.S. Army from 1970-73 before being introduced to rodeo through his bull-riding brother, Larry.
ProRodeo Hall of Fame announcer Hadley Barrett praised Gardenhire just after his death in a ProRodeo Sports News article, saying, "I think, without fail, anyone in the business would say he's one of the best."
In addition to his prowess with a microphone, Gardenhire was also known for his talents as a musician and artist. He was a deacon and lay minister for his Baptist church and a PRCA rodeo minister.
The Phil Gardenhire Memorial Arena in Poteau, Okla., is named in his honor.
He died April 14, 1999, as a result of injuries suffered in an automobile accident at age 46. More than 500 mourners attended his funeral.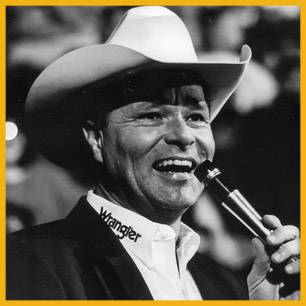 Born: September 29, 1952 in Poteau, Oklahoma
Died: April 14, 1999 in Heavener, Oklahoma