Bareback Riding • Inducted 2018
It may seem like Deb Greenough was destined for rodeo greatness. He was born into the family of the "Riding Greenoughs" and named after World Champion Deb Copenhaver. Yet, Greenough credits a three-letter word for much of his success – try. He rodeoed through college and earned his PRCA card in 1986.
Greenough qualified for the National Finals Rodeo 13 consecutive years (1988-2000), tied with Joe Alexander for the fifth-most overall NFR qualifications in PRCA history. His 15 career NFR go-round wins at the NFR is also fifth most in his event. Greenough won a bareback riding NFR average title in 1992 and the world title in 1993.
Greenough was also known for his success within the Montana Circuit, where he won five circuit titles. At the time of his induction, Greenough remains tied for the most National Circuit Finals Rodeo wins among bareback riders with three career wins (1995-96, 1999).
"The biggest thing that comes to mind for me is this is just a true, neat, awesome feeling, and an honor," Greenough said. "I grew up watching Bill Smith, J.C. Bonine, Donnie Gay, Larry Peabody, just tons of people. I dreamed of one day rodeoing and going up and down the road and getting to the Finals and hopefully winning a world title. That was my passion. But, something like this comes (being inducted in the ProRodeo Hall of Fame) and it is something I never even thought of as a kid. Now that it has happened, it is a thrill."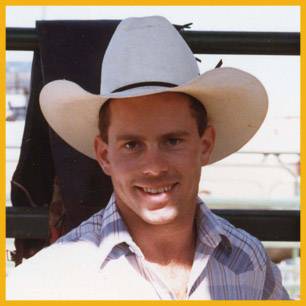 World Championships: 1
Bareback Riding: 1993
National Finals Rodeo Average Champion
Bareback Riding: 1992
RAM Circuit Finals Rodeo Champion
Bareback Riding: 1995, 1996, 1999
RAM Circuit Year-End Champion
Montana Circuit:
Bareback Riding: 1991, 1993, 1994, 1995, 1996, 1997, 1999
Born: May 17, 1963 in Red Lodge, Montana
Joined PRCA: 1986
NFR Qualifications: 13
California Rodeo Salinas / Salinas, CA
Bareback Riding: 1994
Cheyenne Frontier Days / Cheyenne, WY
Bareback Riding: 1990
Dodge City Roundup / Dodge City, KS
Bareback Riding: 1993 (tie)
Ellensburg Rodeo / Ellensburg, WA
Bareback Riding: 1998
National Western Stock Show & Rodeo / Denver, CO
Bareback Riding: 1993
Pendleton Round-Up / Pendleton, OR
Bareback Riding: 1992
Red Bluff Round-Up / Red Bluff, CA
Bareback Riding: 1991, 1998
Redding Rodeo / Redding, CA
Bareback Riding: 1993
San Antonio Stock Show & Rodeo / San Antonio, TX
Bareback Riding: 1993
Snake River Stampede / Nampa, ID
Bareback Riding: 1988
Spanish Fork Fiesta Days Rodeo / Spanish Fork, UT
Bareback Riding: 1989, 1992