Bareback Riding • Class of 2022
Bobby Mote's parents would have preferred that he went into raising and training cutting horses, but barback riding captured his attention. Mote's first bareback ride was at 15 using a rigging that he purchased for $60 in the school cafeteria. And the rest, as they say, is history.
The lanky 6'1" tall cowboy started riding professionally in 1996 but waited until 2000 to make it a full-time career. He made his first of 15 consecutive trips to the National Finals Rodeo in 2001. He was sitting in the lead and only had to make a 10th Round qualified ride to win the World. He bucked off, losing the title to Lan LaJeunesse. The 2002 season saw a more determined Mote, and he won his first of four Bareback World Championships. After battling injuries, Mote easily won the 2007 World Title. And in a twist of fate, clinched the 2009 World Title and NFR Average Title in the 10th round with an 88.5-point ride.
Mote became the first bareback rider to pass the $2 million mark in 2012. Not one to stay idle, Mote began team roping for fun at the age of 25. When his competitive nature kicked in, he began competing in PRCA competitions and came in second in the All-Around race behind Trevor Brazile in 2012.
Mote has always been willing to help the next generation of bareback riders with everything from putting on schools to competing in a matched bronc riding with Steven Peebles to raise money for Oregon High School Rodeo contestants. Mote, Ryan Gray, Jason Havens, and Brian Bain (for one year), the traveling group known as the "The Pride," have been very active on social media. They published a behind-the-scenes video blog for the PRCA and actively interacted with fans on Facebook and Twitter.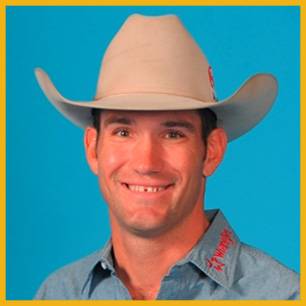 World Championships: 4
Bareback Riding: 2002, 2007, 2009, 2010
National Finals Rodeo Average Champion
Bareback Riding: 2009
RAM Circuit Year-End Champion
Columbia River Circuit:
Bareback Riding: 2001, 2002, 2006, 2007, 2012, 2013
Born: June 3, 1976 in Portland, Oregon