All-Around • Inducted 2017
Austin "Buck" Rutherford hailed from the small northeast Oklahoma town of Lenapah. Rutherford lived as he rode – with fearless abandon.
Competing in bareback riding, bull riding, saddle bronc riding and steer wrestling as a member of the Rodeo Cowboys Association, Rutherford was described by fellow all-around cowboy Bill Linderman as "one of the most natural athletes that ever stuck a paw in a rigging or bull rope."
After placing second in the world in the all-around in 1952, his destiny was soon altered. A devastating car accident in November of the same year left Rutherford in a coma with skull fractures.
Despite months of hospitalization, and doctors advising him to quit rodeo altogether, Rutherford returned for the 1954 season, miraculously winning the all-around title while becoming the first cowboy to eclipse $40,000 in cash and prizes in a single year. He edged out fellow ProRodeo Hall of Famer Jim Shoulders by $440 to win the gold buckle.
That year, his $14,976 in bareback riding was good for second-most in the world, and his $14,139 in bull riding earnings was third-best among RCA cowboys.
Though Rutherford never notched an individual event title, he finished Top 5 in the world standings 11 times between 1949-57 in bull riding and steer wrestling.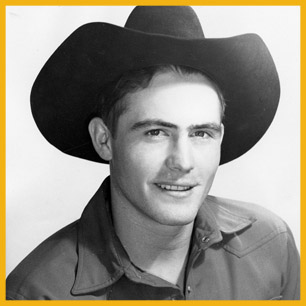 World Championships: 1
All-Around: 1954
Born: September 24, 1929 in Lenapah, Oklahoma
Died: April 28, 1988 in Tulsa, Oklahoma
Buffalo Bill Rodeo / North Platte, NE
Bareback Riding: 1958
Cheyenne Frontier Days / Cheyenne, WY
All-Around: 1954
Bull Riding: 1952, 1954
Clovis Rodeo / Clovis, CA
Steer Wrestling: 1955
Ellensburg Rodeo / Ellensburg, WA
Bull Riding: 1951
Guymon Pioneer Days Rodeo / Guymon, OK
All-Around: 1951
Bareback Riding: 1951, 1964
Bull Riding: 1951
La Fiesta de los Vaqueros Rodeo / Tucson, AZ
Bareback Riding: 1955
National Western Stock Show & Rodeo / Denver, CO
Bareback Riding: 1957
Ogden Pioneer Days Rodeo / Ogden, UT
Bull Riding: 1950
Pendleton Round-Up / Pendleton, OR
Bull Riding: 1956
Red Bluff Round-Up / Red Bluff, CA
Bull Riding: 1952, 1957
Reno Rodeo / Reno, NV
Bull Riding: 1957
Steer Wrestling: 1952