Bareback Riding • Inducted 2011
Lan LaJeunesse made a spectacular debut at the 1999 Wrangler National Finals Rodeo by placing in seven of 10 rounds and shattering NFR bareback riding records with 813 points on 10 horses and earnings of $99,487 on his way to a dramatic world championship victory over Pete Hawkins; he won by just $822.
Two years later, LaJeunesse, of Morgan, Utah, held off young challenger Bobby Mote by winning three rounds and finishing second in the average at the 2001 Wrangler NFR to claim his second gold buckle with a PRCA single-season earnings record of $185,556.
In his three NFR appearances (1999-2001), LaJeunesse won seven NFR rounds.
LaJeunesse earned a gold medal at the 2002 Olympic Command Performance Rodeo in Farmington, Utah, and had wins at the Dodge National Circuit Finals Rodeo (Pocatello, Idaho), San Antonio Stock Show & Rodeo and the Cheyenne (Wyo.) Frontier Days before retiring in 2004 with career earnings of $662,941.
(Pronounced La-ju-Ness)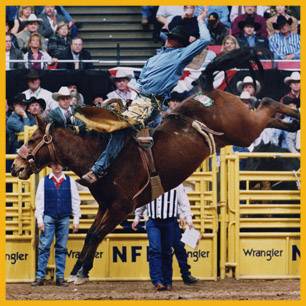 World Championships: 2
Bareback Riding: 1999, 2001
National Finals Rodeo Average Champion
Bareback Riding: 1999
RAM Circuit Finals Rodeo Champion
Bareback Riding: 2002
RAM Circuit Year-End Champion
Wilderness Circuit:
Bareback Riding: 1995, 2000, 2002
Born: November 22, 1970 in Bountiful, Utah
NFR Qualifications: 3
Cheyenne Frontier Days / Cheyenne, WY
Bareback Riding: 2001
Dodge City Roundup / Dodge City, KS
Bareback Riding: 2000
Ellensburg Rodeo / Ellensburg, WA
Bareback Riding: 2000
Guymon Pioneer Days Rodeo / Guymon, OK
Bareback Riding: 2003 (tie)
Red Bluff Round-Up / Red Bluff, CA
Bareback Riding: 1996
Rowell Ranch Rodeo / Hayward, CA
Bareback Riding: 2001
San Antonio Stock Show & Rodeo / San Antonio, TX
Bareback Riding: 2003
World's Oldest Rodeo Prescott Frontier Days / Prescott, AZ
Bareback Riding: 1999 (tie)