All-Around • Inducted 2016
Dave Appleton was an elite competitor for 15 seasons in both bareback riding and saddle bronc riding. His versatility helped him reach the ultimate pinnacle of rodeo success when he won the 1988 all-around gold buckle. He defeated reigning three-time all-around champion Lewis Feild by $644 to claim the coveted title with $121,546 and become the first Australian-born cowboy to win a PRCA world championship.
Appleton also won the 1988 National Finals Rodeo bareback riding average championship and finished second in the world standings in that event.
Appleton qualified for the NFR in bareback riding eight times (1982-88, 1990) and three times more in saddle bronc riding (1984-86), highlighted by him winning the NFR saddle bronc riding average crown in 1986.
Appleton wanted to be a jockey, but grew too tall when he was 15 years old and changed his focus to the rodeo arena. He rodeoed in Australia in 1978-79 before coming over to the United States. He bought his PRCA card in 1980 and competed at the top level through 1994.
Appleton had a penchant for rising to the occasion, especially when he drew the rankest horses in the pen. They were right in his wheelhouse.
Appleton also was one of the pioneers of the PRCA patch program, which began June 1, 1990 and remains a much-needed source of revenue for PRCA cowboys. American Airlines was Appleton's first sponsor.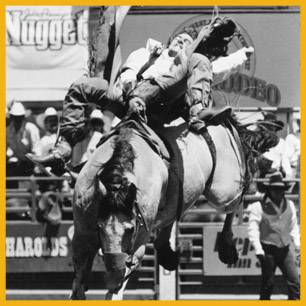 World Championships: 1
All-Around: 1988
National Finals Rodeo Average Champion
Saddle Bronc Riding: 1986
Bareback Riding: 1988
RAM Circuit Finals Rodeo Champion
Saddle Bronc Riding: 1988
RAM Circuit Year-End Champion
Texas Circuit:
All-Around: 1983, 1988
Bareback Riding: 1983, 1988
Saddle Bronc Riding: 1985
Born: January 30, 1960 in Clermont, Queensland, Australia
Joined PRCA: 1980
NFR Qualifications: 8
Buffalo Bill Rodeo / North Platte, NE
Bareback Riding: 1984
California Rodeo Salinas / Salinas, CA
All-Around: 1984
Bareback Riding: 1986 (tie)
Saddle Bronc Riding: 1983, 1984
Cheyenne Frontier Days / Cheyenne, WY
Bareback Riding: 1984, 1986
Clovis Rodeo / Clovis, CA
Bareback Riding: 1983 (tie)
Cody Stampede / Cody, WY
Bareback Riding: 1986
Fort Worth Stock Show & Rodeo / Fort Worth, TX
Bareback Riding: 1988
Ellensburg Rodeo / Ellensburg, WA
Bareback Riding: 1988
Grand National Stock Show & Rodeo / San Francisco, CA
All-Around: 1984, 1988
Saddle Bronc Riding: 1984 (tie)
Red Bluff Round-Up / Red Bluff, CA
Bareback Riding: 1988
Reno Rodeo / Reno, NV
All-Around: 1983
Rowell Ranch Rodeo / Hayward, CA
Bareback Riding: 1986
San Antonio Stock Show & Rodeo / San Antonio, TX
All-Around: 1989
Saddle Bronc Riding: 1985
Snake River Stampede / Nampa, ID
All-Around: 1988
West of the Pecos Rodeo / Pecos, TX
Bareback Riding: 1981 (tie)