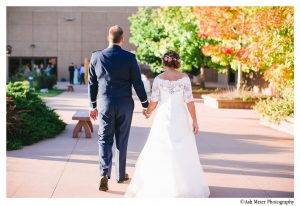 Garden Stages – Fee: included with venue rental
We have two stages in our garden that are included in any venue rental. Our most popular stage is the Pavilion Stage. It faces towards Pikes Peak mountain. Our second stage, the Tent Stage, faces East.
The only thing included with using one of the stages is the use of our chairs. Everything else you need to produce your ceremony is up to you to provide. There is no alternative location for the ceremony due to inclement weather. If you wish to move your ceremony to an indoor location, we will need a two-day notice and the full rental fee for the indoor space will need to be collected before the change can be made.
If you are interested in only renting one of our stages and do not need a venue rental, please call (719)528-4732 for pricing.