Seasonal Tent (June thru September) – Fee: $1,400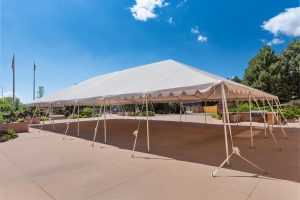 A 50% rental deposit is required to secure the date. The remaining rental balance along with the the $500 security deposit is due 10 days before your event. Special event insurance is recommended for Seasonal Tent rentals.
Occupancy:
250 Seated dinner \ 400 Stand up reception
Included in Rental
The ProRodeo Hall of Fame rental rates include: building services, tables and chairs set-up/tear down, catering kitchen, and the following
29 – 5' round tables (seat 8)
240 – white plastic chairs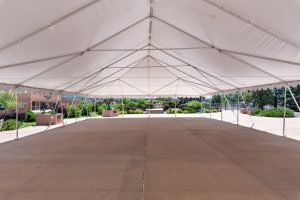 15 – 8' tables
24 – 6' tables
6 – 4' tables
10 – cabarets tables
Podium
Projection Screen
Coat rack and hangers
Side walls for tent
*Additional needs beyond the above listed will be the responsibility of the renter.
Additional Rental Items
• 15'x 15' oak wood dance floor – $250
• Linens available in White, Ivory, or Black – $15 per linen
• WiFi (Only available in Museum Hall rentals) – $75
• 8′ heater with propane – $100
• Additional 50 amps power (turtle) – $100
Restrictions
• Events cannot begin before 5:00pm and must conclude by 10:00pm.
• Set-up cannot begin before 2:00pm (Unless prior arrangements are made. Exception are made for weddings.)
• Cash bars are NOT permitted, unless a special events liquor license is purchased through the City of Colorado Springs.
Required
• A $500 security deposit is required for all rentals in addition to the rental fee. It is fully refundable after the event if there are no damages or beyond normal cleaning we have to do.
• All food must be catered. Only licensed and insured caterers are allowed on the property. A list of preferred caterers can be provided.
• If serving alcohol, a designated bartender must be hired to serve drinks. They cannot be an invited guest.
• $1,000,000 certificate of general liability insurance is required for Museum Hall rentals.